Are you an aspiring photographer? Many times when we're just starting out, we may not be fully aware of our own potential, and we may sell our work short—or maybe even overestimate it a bit, on the other hand. A great way to get a feel for how much your photos are worth is to try to sell them as soon as you think you are taking decent quality shots.
Now, if you've never sold a single photo before, you might not know how to go about it. Luckily, thanks to the Internet, it's actually not that hard to test the waters these days. Here are two good ways to get started:
Make Use of Stock Photo Sites
One of the first places you may want to check out is a stock photo site, like Dreamstime, Shutterstock, iStockPhoto, or other popular platforms. The nice thing about using sites like these is that you can kind of "set it and forget it." You upload your stock photos, and you collect the money when they sell, and it's mostly a passive affair. The stock photo site takes care of customer service, technical issues, and anything else that most of us would rather avoid.
However, it comes at a price. They can take a substantial cut of your revenue. For some people, though, this is a small price to pay simply because of the huge volume of traffic that these sites get. Anyone who is looking for stock photos usually ends up at one of the popular stock photo sites.
Sell Your Photos on Your Own Site
Sure, this may take some technical know-how, but it can be worth it because you own the platform. If you own the platform, you keep all of the profits, and you can also think of your site as an investment that you could later sell. After all, why spend your time building up someone else's business and resources when you can build your own?
How do you sell your photos on your site, though? Well, there are a few ways:
Sell stock photos, like on the stock photo sites, except with your platform.
Sell prints of the images.
Sell merchandise that uses your photos.
You can get creative with the last one. If you take interesting photos, people might want to buy them on mugs or T-Shirts. Granted, you'll probably have to build up some following for this to work, but at least it will be your following.
Don't miss our article regarding the importance of having a photographer's website — The importance of a professional website for photographers
Making your website doesn't have to be hard, either. These days, you can use WordPress with an appropriate theme, and you can have a fairly professional-looking site up within a few hours. Throw in some shopping cart software, and people can purchase your wares. For physical products like prints and merchandise, you may have to team up with a company that will create these sorts of goods for cheap.
The important thing is to make sure that you take action. Photography can be a fun hobby, but when you're ready to get serious, you're going to want to test in small ways first before you quit your day job and jump in headfirst. One of the best ways to see if you have a market is to try selling online.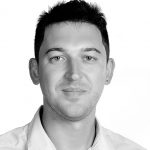 Computer programming and digital photography enthusiast. Make programs for the last 20 years. Interested in product design, UX, and image processing.
Work for Lunarship Software and improve Phototheca every day.