December 5th, 2020: We are enlightened to announce the new major release of Phototheca – Phototheca 2020 Fall Update!
In this release, the team put all efforts to improve the usability of the software for the daily routines of organizing, managing, and enjoying photo collections and digital memories.
We reworked and improved well-known features and introduced a bunch of new. Phototheca works faster than ever, supports more RAW file formats and camera models, gives new ways to sort and find specific photos within thousands of files.
---
Changes and New Features
Facial Recognition
The Facial Recognition feature was revisited and reworked a lot
It is possible to operate with multiple faces at once – assign a name, move out of a stack or delete from the library
Precision and performance of recognition and matching functions are improved
Quick Filter is added to the corkboard. Type a part of a person's name to get instant search results and locate a person immediately
A person name is being added to the IPTC metadata block when tagging files
Files Import
A better experience with import from iPhones and memory cards. Photos appear grouped by the date of the shoot when browsing a smartphone
Import Options dialog appears on every import, with a clear explanation of how and where photos will be imported to
Files Formats
Better support for HEIC/HEIF format on Windows 7 and Windows 10
Faster import of RAW files
Support for many new cameras and RAW formats
General Functions
More space for keywords when displaying keywords beneath a thumbnail, up to four lines
Option to show and hide face boxes, when viewing full-size photos
Option to add person names as keywords to files automatically
Metadata
A new option to adjust the date and time of photos is added. The option lets to set the same date and time for a batch of files(instead of shifting the time of every file)
Info Panel
The box "Appears in" is added to the panel. This box shows all Events and Albums where a photo appears and let navigate to the Event or Album with a click
Duplicates
The Duplicates feature is reworked to provide a more clear and streamlined way to deal with duplicates
Look & feel
The general look and feel were optimized for high-DPI displays and tablets, up to 4K resolution
---
Grab your copy of Phototheca and start organizing the mess of thousands of photos over decades you've got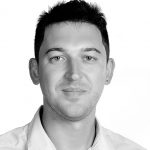 Computer programming and digital photography enthusiast. Make programs for the last 20 years. Interested in product design, UX, and image processing.
Work for Lunarship Software and improve Phototheca every day.