RAW in Phototheca
Phototheca works with RAW file formats via the Windows Imaging Component (WIC) framework supported in Windows 7, Windows 8 and later versions of Windows.
WIC allows applications like Phototheca to work with image formats via so-called codecs provided by the camera and other hardware vendors. Without the need to know the internal details of a file format, Phototheca can handle the files as long as a working codec is installed.
Please ensure that you have always installed the latest RAW codec (WIC codec) from your camera vendor's web site. This ensures that Phototheca can read and reproduce the images with the best possible quality.
There are different scenarios possible when it comes to specific Windows versions and WIC.
Windows 10, Windows 8.1, Windows 8
You are lucky because these OS have built-in WIC codes to decode multiple RAW formats from Microsoft. Those codecs are available via Windows Update, so just keep your OS up to date and enjoy with RAW support for growing camera models number.
Phototheca checks for this scenario and shows you the prompt message: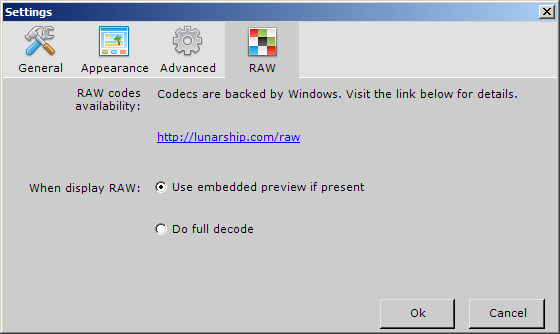 Windows 7, Windows Vista SP2
These OS have no built-in RAW codecs. There is codecs' pack from Microsoft (Microsoft Camera Codec Pack) which enables RAW support in Windows 7 and Vista SP2 via WIC. Just download and install it by the link below and get support for more than 100 RAW formats and camera models.
Pay attention to the bitness of your OS:
if you have Windows 32bit — the needed file for you to install is "MicrosoftCameraCodecPack-x86.msi"
If you have Windows 64bit — use the "MicrosoftCameraCodecPack-x64.msi" installer.
Both files are available to download by the link:
Download Microsoft Camera Codec Pack
Phototheca checks if such codecs are installed or not and shows you the prompt message: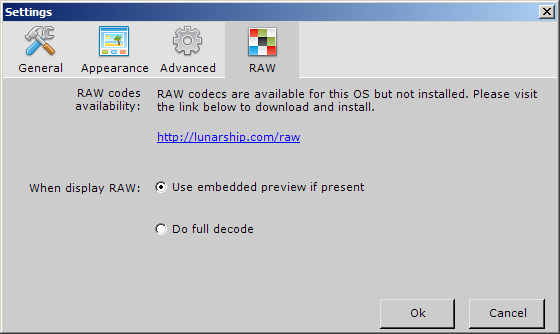 RAW formats support from hardware vendors
Major camera vendors also release their own implementations of WIC codecs to give RAW support for end-users. It makes sense to consider setup codecs from a vendor to give better support for RAW formats than we may get from Microsoft implementation.
32-Bit and 64-Bit
The installed codecs must match the operating system's bitness. If you run a 64-Bit version of Windows you need to install the 64-Bit variant of the RAW codecs provided by your camera vendor. If your camera vendor does not offer 64-Bit codecs consider using the Microsoft Codec Pack or purchasing the FastPictureViewer codec pack for full WIC support in Windows Explorer, Phototheca and other applications on 64-Bit Windows versions.
WIC Codec Download Sites
Nikon
Canon
Sony
Olympus
Microsoft Free Codec Pack for 32 and 64 Bit
Adobe DNG
FastPictureViewer Codec Pack
See also this Wikipedia article for more information about WIC and the Microsoft Windows Imaging Component Overview.
Camera models which are supported by Phototheca via Microsoft Camera Codec Pack
Canon: Digital Rebel XT, Digital Rebel XTi, EOS 1DC, EOS 10D, EOS 20D, EOS 30D, EOS 40D, EOS 50D Digital, EOS 60D, EOS 60Da, EOS 70D, EOS 100D, EOS 300D, EOS 350D, EOS 400D, EOS 450D, EOS 500D, EOS 550D, EOS 600D, EOS 650D, EOS 700D, EOS 1000D, EOS1100D, EOS 5D, EOS 5D Mark II, EOS 5D Mark III, EOS 6D, EOS 7D Digital, EOS D30, EOS D60, EOS Digital Rebel, EOS Kiss Digital, EOS Kiss Digital N, EOS Kiss Digital X, EOS Kiss F, EOS Kiss X2, EOS Kiss X3, EOS Kiss X4, EOS Kiss X5, EOS Kiss X6i, EOS Kiss X7, EOS Kiss X7i, EOS Kiss X50, EOS M, EOS Rebel SL1, EOS Rebel T1i, EOS Rebel T2i, EOS Rebel T3, EOS Rebel T3i, EOS Rebel T4i, EOS Rebel T5i , EOS Rebel XS, EOS Rebel XSi, EOS-1D, EOS-1D X, EOS-1D Mark II, EOS-1D Mark II N, EOS-1D Mark III, EOS-1D Mark IV, EOS-1Ds, EOS-1Ds Mark II, EOS-1Ds Mark III, PowerShot G1 X, PowerShot G2, PowerShot G3, PowerShot G5, PowerShot G6, PowerShot G9, PowerShot G10, PowerShot G11, PowerShot G12, PowerShot G15, PowerShot Pro1, PowerShot S90, PowerShot S95, PowerShot S100, PowerShot S100V, PowerShot S110, PowerShot SX1 IS, PowerShot SX50 HS
Casio: EX-FH20
Epson: R-D1, R-D1s
Fujifilm: X10, XF1
Kodak: EasyShare Z981, EasyShare Z1015 IS
Konica Minolta: ALPHA SWEET DIGITAL, ALPHA-5 DIGITAL, ALPHA-7 DIGITAL, DiMAGE A1, DiMAGE A2, DYNAX 5D, DYNAX 7D, Maxxum 5D, Maxxum 7D
Leica: DIGILUX 3, D-LUX 4, M8, M8.2, M9
Nikon: 1 J1, 1 J2, 1 J3, 1 S1, 1 V1, 1 V2, Coolpix 5400, Coolpix P6000, Coolpix P7000, Coolpix P7100, Coolpix 8700, D1H, D2H, D2Hs, D2X, D2Xs, D3, D3s, D3X, D4, D40, D40x, D50, D60, D70, D70s, D80, D90, D100, D200, D300, D300s, D600, D700, D800, D800E, D3000, D3100, D3200, D5000, D5100, D5200, D7000, D7100
Olympus: C-7070 Wide Zoom, C-8080 Wide Zoom, E-1, E-3, E-10, E-20, E-30, E-420, E-450, E-520, E-600, E-620, EVOLT E-300, EVOLT E-330, EVOLT E-400, EVOLT E-410, EVOLT E-500, EVOLT E-510, OM-D E-M5, PEN E-P1, PEN E-P2, PEN-P3, PEN E-PL1, PEN E-PL2, PEN E-PL3, PEN E-PL1s, PEN E-PL5, PEN E-PM1, PEN E-PM2, XZ-1, XZ-2, XZ-10
Panasonic: Lumix DMX-FZ40, Lumix DMC-FZ150, Lumix DMC-FZ200, Lumix DMC-G1, Lumix DMX-G2, Lumix DMC-G3, Lumix DMX-G5, Lumix DMC-GF1, Lumix DMC-GF2, Lumix DMC-GF3, Lumix DMX-GF5, Lumix DMC-GH1, Lumix DMC-GH2, Lumix DMC-GH3, Lumix DMX-GX1, Lumix DMC-LX3, Lumix DMC-LX5, Lumix DMX-LX7
Pentax (PEF formats only): *ist D, *ist DL, *ist DS, K10D, K20D, K100D, K100D Super, K110D, K200D, K-01, K-5, K-7, K-r, K-x
Samsung: EX2F, Galaxy NX, NX10, NX11, NX20, NX300, NX1000, NX2000
Sony: DSLR-A100, DSLR-A200, DSLR-A230, DSLR-A300, DSLR-A330, DSLR-A350, DSLR-A380, DSLR-A500, DSLR-A550, DSLR-A560, DSLR-A580, DSLR-A700, DSLR-A850, DSLR-A900, Alpha NEX-C3, Alpha NEX-F3, Alpha NEX-3, Alpha NEX-3N, Alpha NEX-5, Alpha NEX-5N, Alpha NEX-5R, Alpha NEX-6, Alpha NEX-7, Alpha SLT-A33, Alpha SLT-A35, Alpha SLT-A37, Alpha SLT-A55/A55V, Alpha SLT-A57, Alpha SLT-A58, Alpha SLT-A65V, Alpha SLT-77V, Alpha SLT A-99, Cyber-shot DSC-R1, Cyber-shot DSC-RX1, Cyber-shot DSC-RX1R, Cyber-shot DSC-RX100, Cyber-shot DSC-RX100 II