In the process of tagging faces, you may end up with multiple tags for a single person. Here are a few examples:
You have a tag for someone's nickname and another with their given name.
You have a tag using someone's maiden name and another with their married name.
You have a tag with a name spelled correctly and another misspelled.
Phototheca makes it easy to merge multiple tags and combine the tagged images into one collection for that person.
NOTE: Merging Face Tags cannot be undone.
Open Phototheca and select People View.
Select two or more Persons that you'd like to combine by clicking the first one, then holding down the CTRL key and selecting another.
Right-click with a mouse and select "Merge People."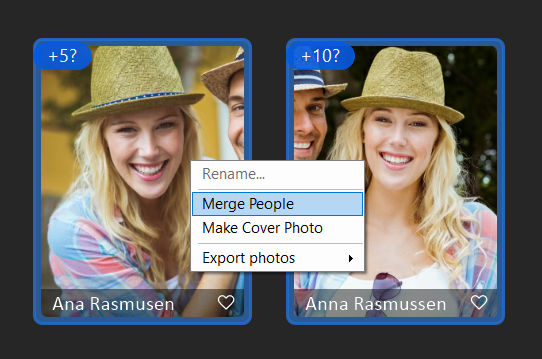 4. Selected persons will be merged into one, and then you can give the correct name to that person.