With this feature you can upload photos directly from Phototheca right into your Google Photos account.
To start uploading photos to Google Photo, you have to configure access to your Google Photos account first. Follow the next steps to configure the access:
Go to menu Edit->Settings->Accounts->Google Photos
Click the "Authenticate" button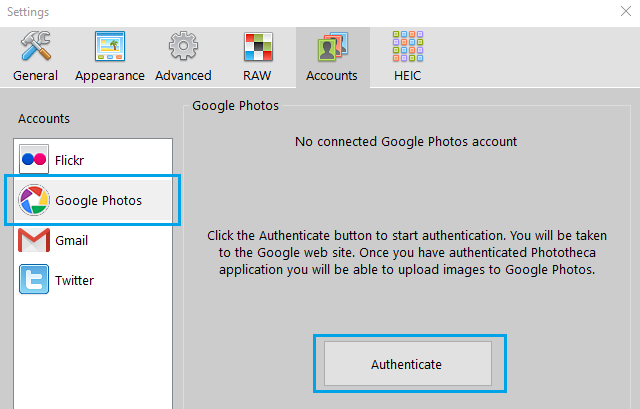 3. A browser will start and load a page by Google where you can grant the Phototheca Uploader app rights to upload new photos to your account.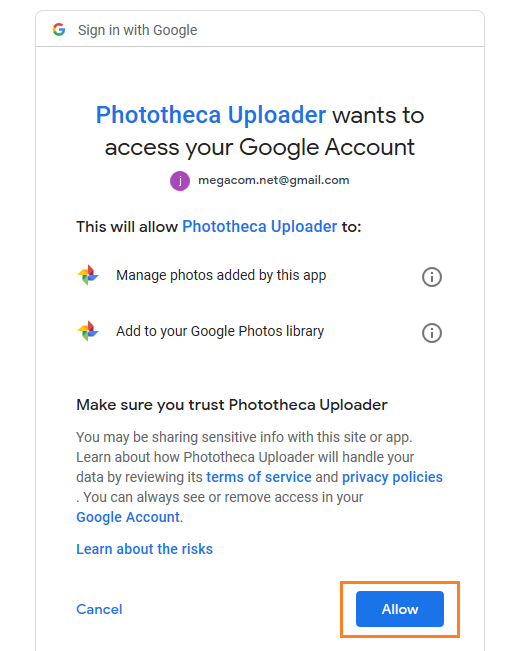 NOTE: This action does not grant Phototheca access to your existing photos at Google Photos. Phototheca will not be able to browse or download your Google Photos.
To be able to upload photos on your behalf to Google Photos, Phototheca uses an intermediary app, Phototheca Uploader, which gets very limited access to your Google Photos account and is able to upload new images only, without having any access to existing photos. This is in accordance with a security model set by Google.
Having configured your Google Photos account in Phototheca, follow the next steps to upload photos to Google Photos:
Select photos to upload
Click the "Google" button on the toolbar
Provide a title for an album that will be created in Google Photos
Select the size of photos to upload
Click the "Publish" button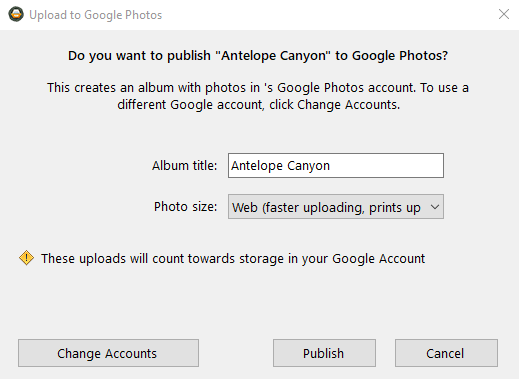 After the click, a new Album will be created in the Web/Google section of the Library and you will be taken into that Album. The upload starts automatically, and the progress of the upload is shown on the progress bar at the right side of the title bar.

Once the upload is complete, a clickable link to the newly created album will be shown on the title bar.

Click the link to open the new album in a browser.